Events and Activities
Basketball Competition
On Monday 1st February, Year 6 pupils and one Year 5 pupil took part in a Basketball competition with 7 other schools in the Bay area. The pupils were amazing and they had to battle hard to stay in the game. They managed to draw a game then unfortunately they lost the other 2 games. The pupils were a credit to the school and showed what wonderful sportsmanship we all have at Brading.
Pizza Express Trip
Half of Europe class went to Pizza Express on Tuesday 12th January to experience a working restaurant. They had the opportunity to make their own pizzas and have a tour of the restaurant behind the scenes. They were extremely well behaved and asked some pertinent questions to the chef and store manager.
Christmas 2015 at Brading Primary School
Over Christmas we had lots fantastic activities which included our Carols by Candlelight Evening, a nativity church service, Christmas dinner, and party lunch and afternoon where we played lots of different games in within our classes. Father Christmas visited all our classrooms with a present for us all. We all received a lovely book to take home and read over the Christmas holidays. We have included lots of photo's in the album below for you to have a look at!
'Electricity Show' with the Kinetic Theatre Company
On Monday 16th November, we had the Kinetic Theatre visit us to do a performance of the 'Electricity Show'. The areas they covered were Voltage and Current, Series and Parallel Circuits and Conductors and Insulators. It was really funny and informative and a great way to end our fantastic science day!
Africa's 'Three Little Pig' Houses
On Tuesday, Africa class had a very exciting science day. In keeping with our current topic (megastructures and materials) we had the important job of building strong houses for the three little pigs.
Our day began by reading, reciting and sequencing the traditional story of 'The Three Little Pigs'. We then had a great time in groups preparing to act out the story, which we later performed to the rest of the class. Then, we became authors for the rest of the morning, writing our own versions of the story, but changing the characters, the building materials and the structure that the characters were building. Miss Dyer really enjoyed reading some fantastic stories, with some accurate knowledge of building megastructures!
In the afternoon, we predicted which materials would make strong and weak houses and we all had a go at planning and building houses out of straw, sticks and lego. The big bad wolf turned up and tried to blow our houses down, so that we could see whether our predictions were right. We then decided on things that we could do to make our houses even stronger if we had the opportunity to do our experiment again.
Shoebox Appeal 2015
As a school we collected donations for the Shoebox Appeal and managed to get 8 boxes together to send off to countries such as the Philippines, Albania, Moldova and Montenegro. A big thank you to everyone who donated towards this worthy cause.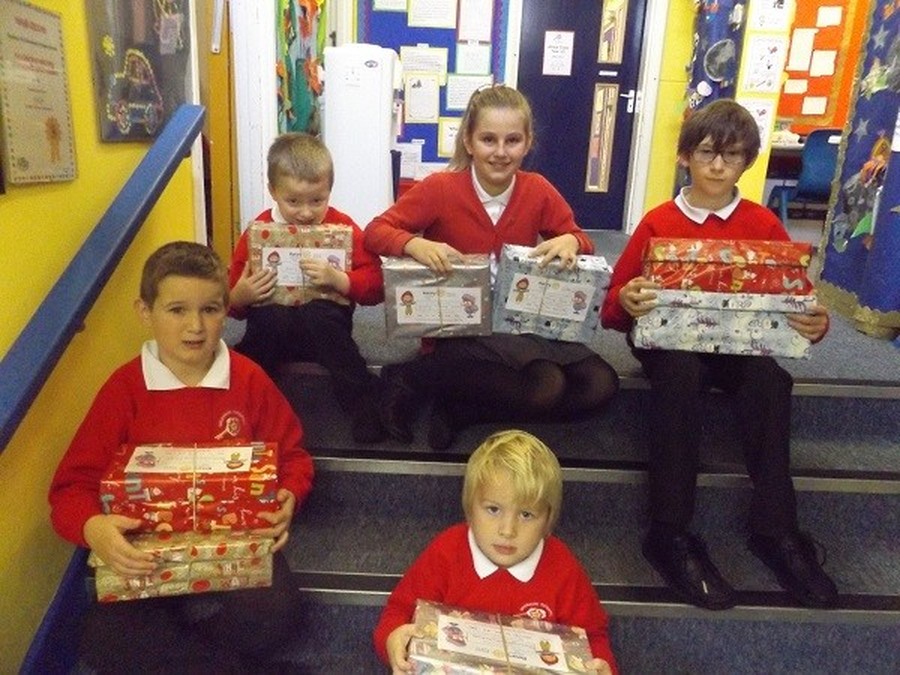 Table Tennis Tournament
Year 5 represented the school at Smallbrook Stadium on Thursday 15th October in a table tennis tournament. There were 4 schools in total taking part and the had to compete in different skill sessions and the points won were added together. Brading CE Primary came third overall - an excellent result!
UKSA Sailing
Year 6 were lucky enough to be given the opportunity of experiencing sailing at UKSA. They were given the safety instructions and got kitted up for the water activity. In groups of 3 the children were able to follow those instructions and enjoy a morning's sailing. They had a lot of fun but the weather was cold and the showers were needed after to warm up!
Smoothie Bike
We all participated in the Smoothie Bike session with Ross from SUSTRANS. The smoothie bike is a stationary bicycle fitted with a special blender that spins as you pedal, mixing up delicious fruit smoothies in an instant. We all got to try the smoothie we made afterwards - we all had a fantastic time!
Harvest Festival 2015
It was wonderful to see so many parents and friends here to enjoy our Harvest Festival this week. Our children worked hard to practice and perform the lovely ideas they had. From singing, reading, drama and special poems and prayers a great time was had by all! As a school family and community we have a lot to be thankful for. We really appreciate the generous food gifts that so many of you gave to help others. Thanks again for making Harvest a wonderful time of year.
Greek day with the Treehouse Theatre
What an exciting day! We all came to school dressed up as Ancient Greeks and we were keen to find out what we would learn about. Each class had some time in the hall with Ben where we learnt our roles for the afternoon's performance. He made us laugh but also he showed us what to do. Some of us were warriors and we had to learn to pretend to fight. In the afternoon, it was great to watch everyone else performing their parts. This was a super way to find out lots about the Ancient Greeks! We loved it!
Older Entries
Added
Mardi Gras
Europe's 'Plant Off'
Europe's Viking Longhouses
Sports Day
Arctic & Africa Beach Trip
Summer Fayre
Arctic Class -
Seaside puppet show
Arctic Class
Rocket Challenge
Outside Gym Equipment
Arctic Class Farm Visit
World Book Day
Netball Tournament
Garlic Farm Visit
Fairtrade T-Shirts Art
Shaun the Sheep design challenge
Forest Schools